Antidepressants & ARVs
Drug-drug Interactions between Antidepressants & ARVs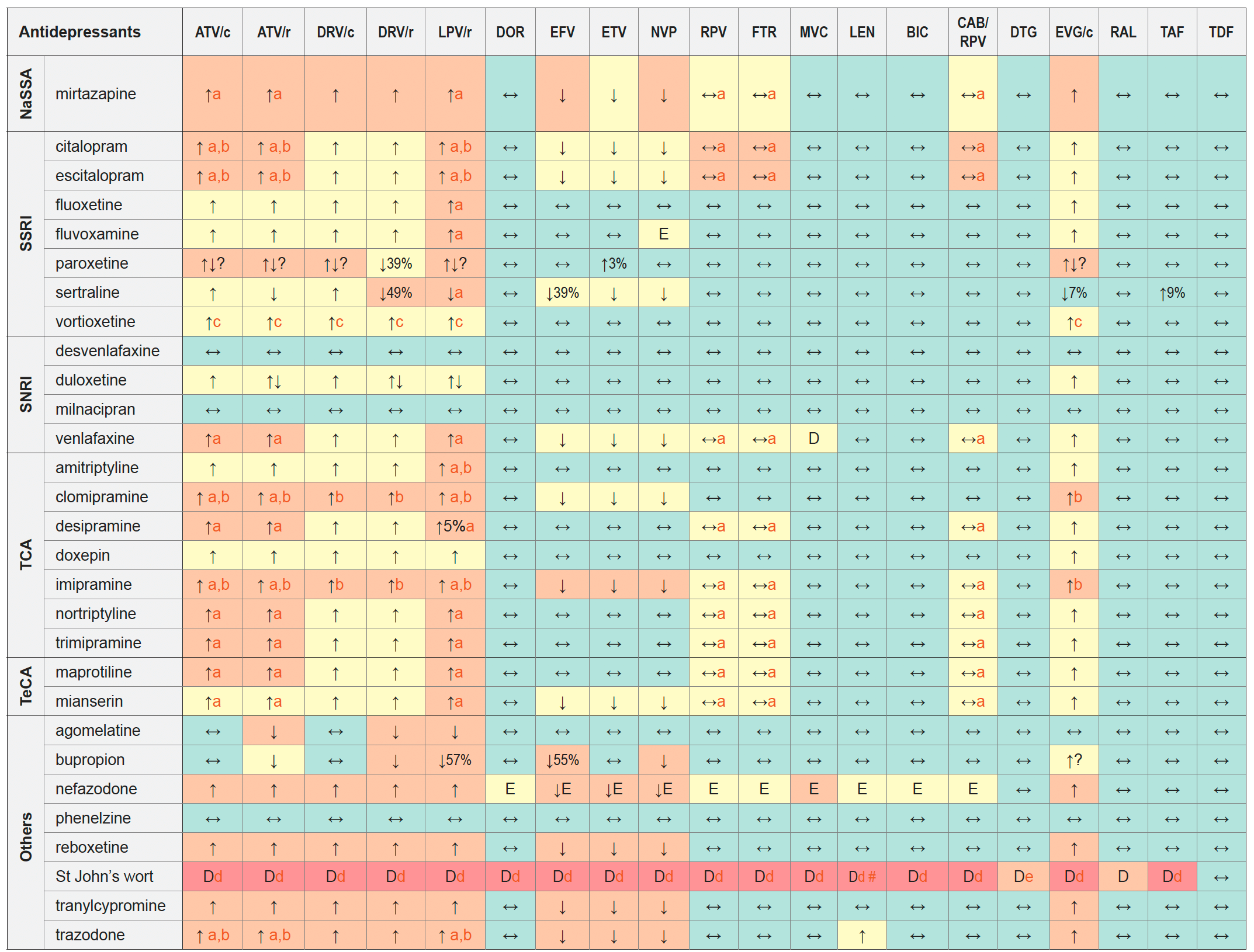 Legend

↑                  Potential elevated exposure of the antidepressant
↓                  Potential decreased exposure of the antidepressant
↔                No significant effect
D                  Potential decreased exposure of ARV drug
E                  Potential elevated exposure of ARV drug
ATV/c         ATV co-formulated with COBI (300/150 mg qd)
DRV/c         DRV co-formulated with COBI (800/150 mg qd)
CAB/RPV   CAB and RPV im long acting injections (PK and/or QT interactions shown are with RPV)
Numbers refer to increased or decreased AUC as observed in drug-drug interaction studies
NaSSA       noradrenergic specific serotonergic antidepressant
SSRI           selective serotonin reuptake inhibitors
SNRI           serotonin and norepinephrine reuptake inhibitors
TCA            tricyclic antidepressants
TeCA          tetracyclic antidepressants 
Interactions with ABC, FTC, 3TC, ZDV
ABC, FTC, 3TC, ZDV: no clinically relevant interactions expected.
Interactions with cabotegravir (oral)
None 
Interactions with ibalizumab
None
Comments
Caution as both drugs can induce QT interval prolongation.
ECG monitoring is recommended.
Based on the patient clinical response, a lower dose of vortioxetine may be needed in poor CYP2D6 metabolizers in the presence of a strong CYP3A4 inhibitor.
A study suggests a low risk of a clinically relevant pharmacokinetic interaction with low-hyperforin formulations (< 1 mg/day) of St John's Wort (hyperforin is the constituent responsible for induction of CYPs and P-gp). Coadministration may be considered with St John's Wort formulations that clearly state the hyperforin content and which have a total daily hyperforin dose of 1 mg or less.
The European SmPC recommends DTG 50 mg bid in persons without INSTI resistance. The US Prescribing Information recommends that co-administration should be avoided as there are insufficient data to make dosing recommendations.
# At least a 2-week (moderate inducers) or 4-week (strong inducers) cessation period is recommended prior to initiation of LEN due to the persisting inducing effect after discontinuation of an inducer.
Further Information
For additional drug-drug interactions and for more detailed pharmacokinetic interaction data and dosage adjustments, please refer to: http://www.hiv-druginteractions.org (University of Liverpool)