Anti-coagulants/Antiplatelet Agents & ARVs
Drug-drug interactions between Anticoagulants/Antiplatelets & ARVs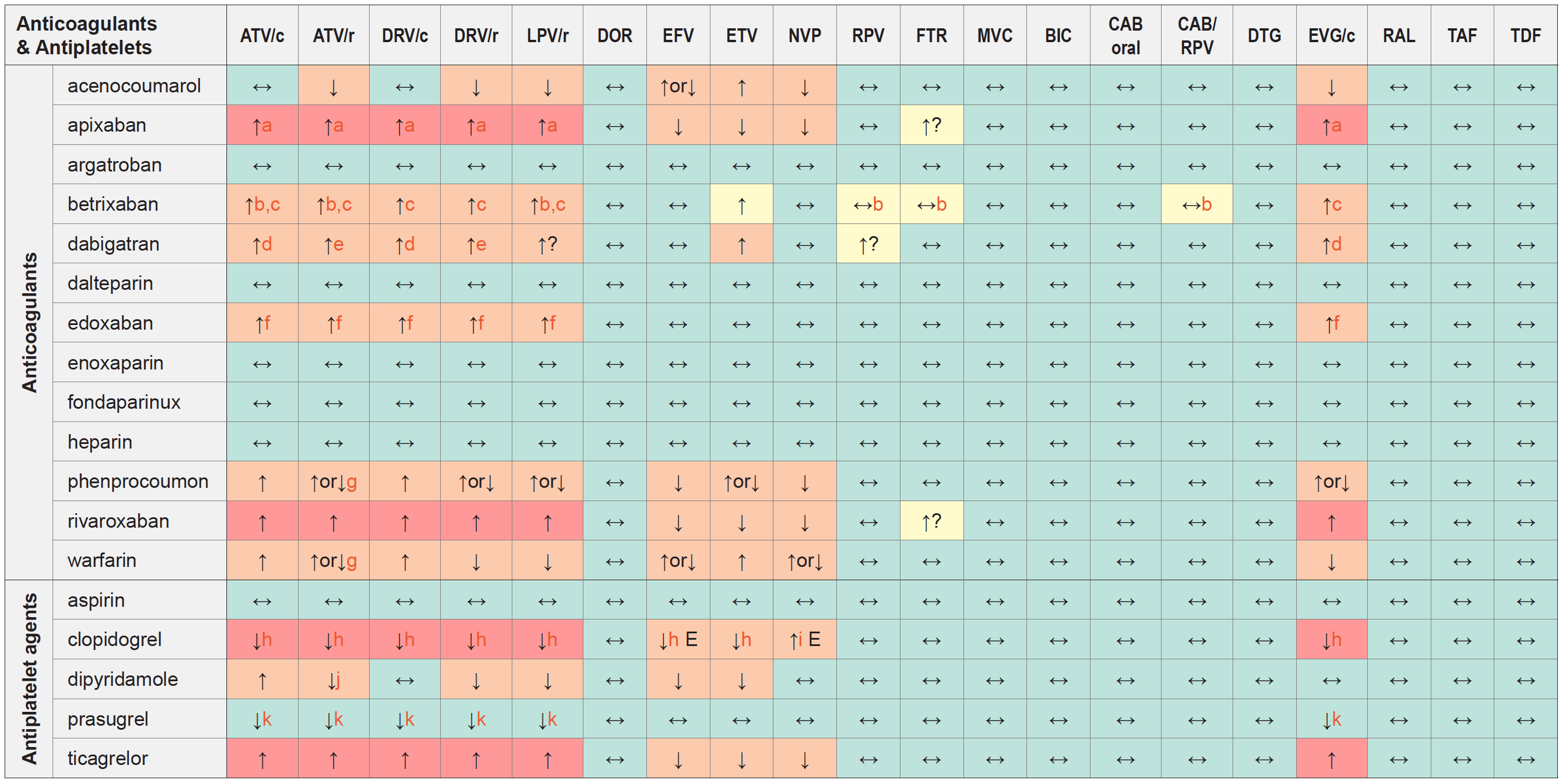 Legend
↑                  Potential elevated exposure of the anticoagulant/ antiplatelet agent
↓                  Potential decreased exposure of the anticoagulant/ antiplatelet agent
↔                No significant effect
D                  Potential decreased exposure of ARV drug
E                  Potential elevated exposure of ARV drug
ATV/c         ATV co-formulated with COBI (300/150 mg qd)
DRV/c         DRV co-formulated with COBI (800/150 mg qd)
CAB/RPV   CAB and RPV im long acting injections (PK and/or QT interactions shown are with RPV)
Interactions with ABC, FTC, 3TC, ZDV
ABC:                     may potentially reduce the pharmacodynamic effect of clopidogrel.
FTC, 3TC, ZDV:   no clinically relevant interactions expected.
Interactions with ibalizumab
None
Comments
US label suggests to use apixaban at a reduced dose (2.5 mg bid) if needed.
Both drugs can potentially prolong the QT interval, ECG monitoring recommended.
US label recommends to use a reduced initial betrixaban dose of 80 mg followed by 40 mg qd.
Dabigatran should be reduced to 100 mg bid in persons with normal renal function and to 75 mg bid in case of moderate renal impairment. Coadministration should be avoided in case of severe renal impairment.
No significant increase in DRV/r exposure when administered simultaneously with dabigatran in persons with no renal impairment.
European label advises to consider a dose reduction of edoxaban from 60 mg to 30 mg, however, US label recommends no dose modification.
Unboosted ATV predicted to increase the anticoagulant, monitor INR and adjust the anticoagulant dosage accordingly.
Decreased conversion to active metabolite leading to non-responsiveness to clopidogrel. An alternative to clopidogrel should be considered.
Increase in amount of active metabolite via induction of CYP3A4 and CYP2B6.
Unboosted ATV predicted to increase dipyridamole exposure due to UGT1A1 inhibition.
Reduced active metabolite, but without a significant reduction in prasugrel activity.
Further Information
For additional drug-drug interactions and for more detailed pharmacokinetic interaction data and dosage adjustments, please refer to: http://www.hiv-druginteractions.org (University of Liverpool)