COVID-19 Therapies & ARVs
Drug-drug Interactions between COVID-19 Therapies and ARVs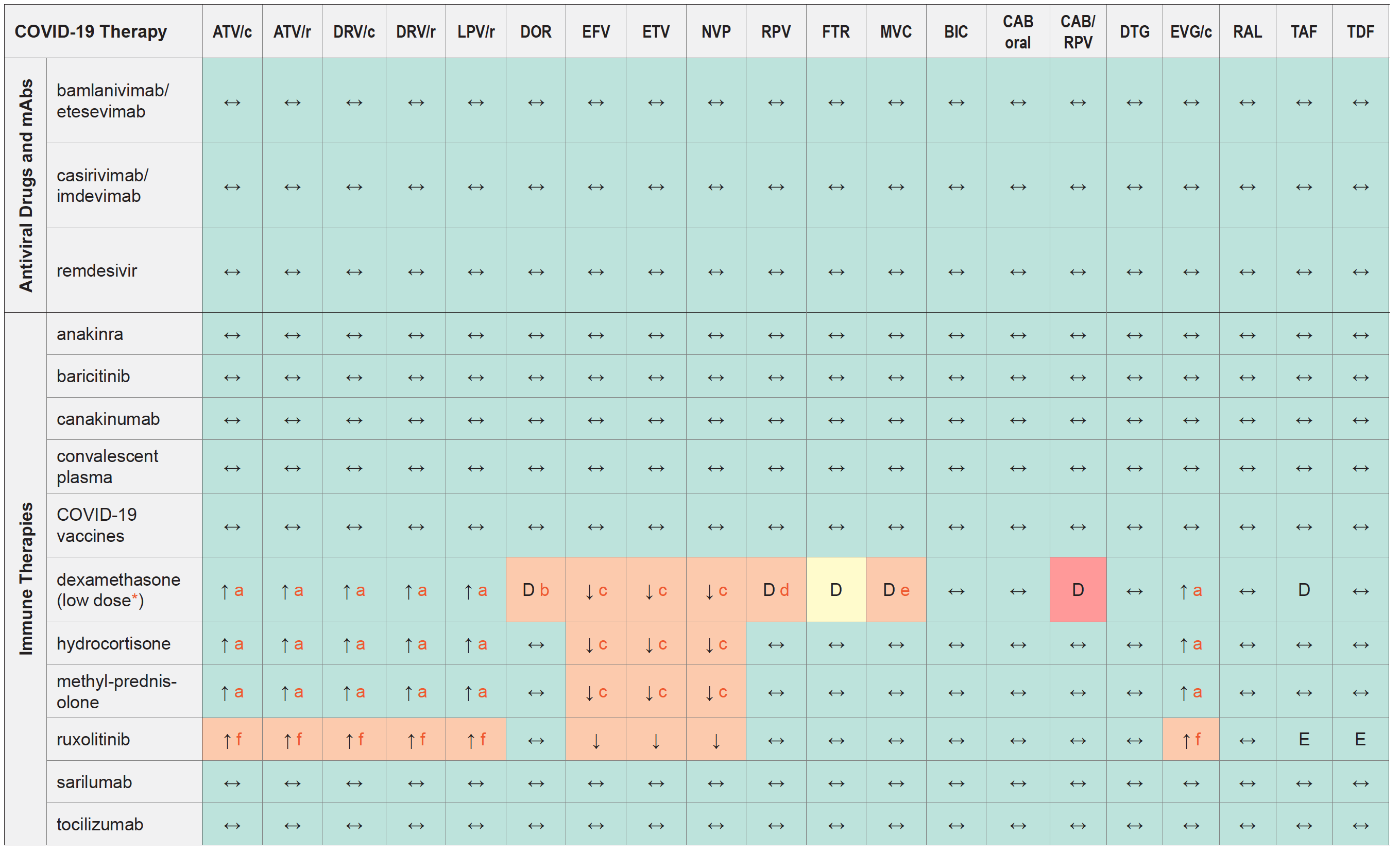 Legend
↑                  Potential elevated exposure of the COVID therapy
↓                  Potential decreased exposure of the COVID therapy
↔                No significant effect
D                  Potential decreased exposure of ARV drug
E                  Potential elevated exposure of ARV drug
ATV/c         ATV co-formulated with COBI (300/150 mg qd)
DRV/c         DRV co-formulated with COBI (800/150 mg qd)
CAB/RPV   CAB and RPV im long acting injections (PK and/or QT interactions shown are with RPV)
*Evaluation of the DDI risk refers to a dexamethasone dose of 6 mg qd and does not apply to higher doses of dexamethasone.
Numbers refer to increased or decreased AUC as observed in drug-drug interaction studies
mAbs  monoclonal antibodies
Interactions with ABC, FTC, 3TC, ZDV
ABC, FTC, 3TC: no clinically relevant interactions expected.
ZDV: potential additive haematological toxicity with anakinra, baricitinib, canakinumab, ruxolitinib, sarilumab, tocilizumab.
Interactions with ibalizumab
None
Comments
Product labels for dexamethasone, hydrocortisone and methylprednisolone do not recommend co-administration of strong CYP3A4 inhibitors but this is unlikely to be clinically significant given the low dose of corticosteroids used in COVID-19 treatment.
Consider increasing DOR to 100 mg bid during treatment for COVID-19 and for approximately 2 weeks after the end of treatment.
Doubling the dose of dexamethasone, hydrocortisone or methylprednisolone is recommended.
Dexamethasone is a dose dependent CYP3A4 inducer and may decrease RPV concentrations. Although the level of induction at the dose recommended for COVID (6 mg/day) is likely to be relatively modest, it is advised either using hydrocortisone (IV, 200 mg/day) or, alternatively, giving dexamethasone but doubling the dose of RPV to 50 mg qd. This dose should be maintained for 2 weeks after the end of treatment as any reduction in RPV concentrations may persist for up to 14 days after stopping dexamethasone.
Consider using MVC at a dose of 600 mg bid with dexamethasone in the absence of a PI or other potent CYP3A4 inhibitors. Consider decreasing MVC to 150 mg bid with dexamethasone in presence of a PI or strong CYP3A4 inhibitor. These dose adjustments should be considered during treatment for COVID-19 and for approximately 2 weeks after the end of treatment.
The ruxolitinib European product label advises reducing ruxolitinib dose by half and administering bid. Monitor closely for cytopenia and titrate ruxolitinib based on safety and efficacy.
Further Information
For additional drug-drug interactions and for more detailed pharmacokinetic interaction data and dosage adjustments, please refer to: http://www.covid19-druginteractions.org (University of Liverpool)
Refer to the DDI table between anticoagulants/antiplatelet agents and ARVs for COVID patients receiving anticoagulants.