ARVs & non-ARVs
Drug-drug Interactions between ARVs and non-ARVs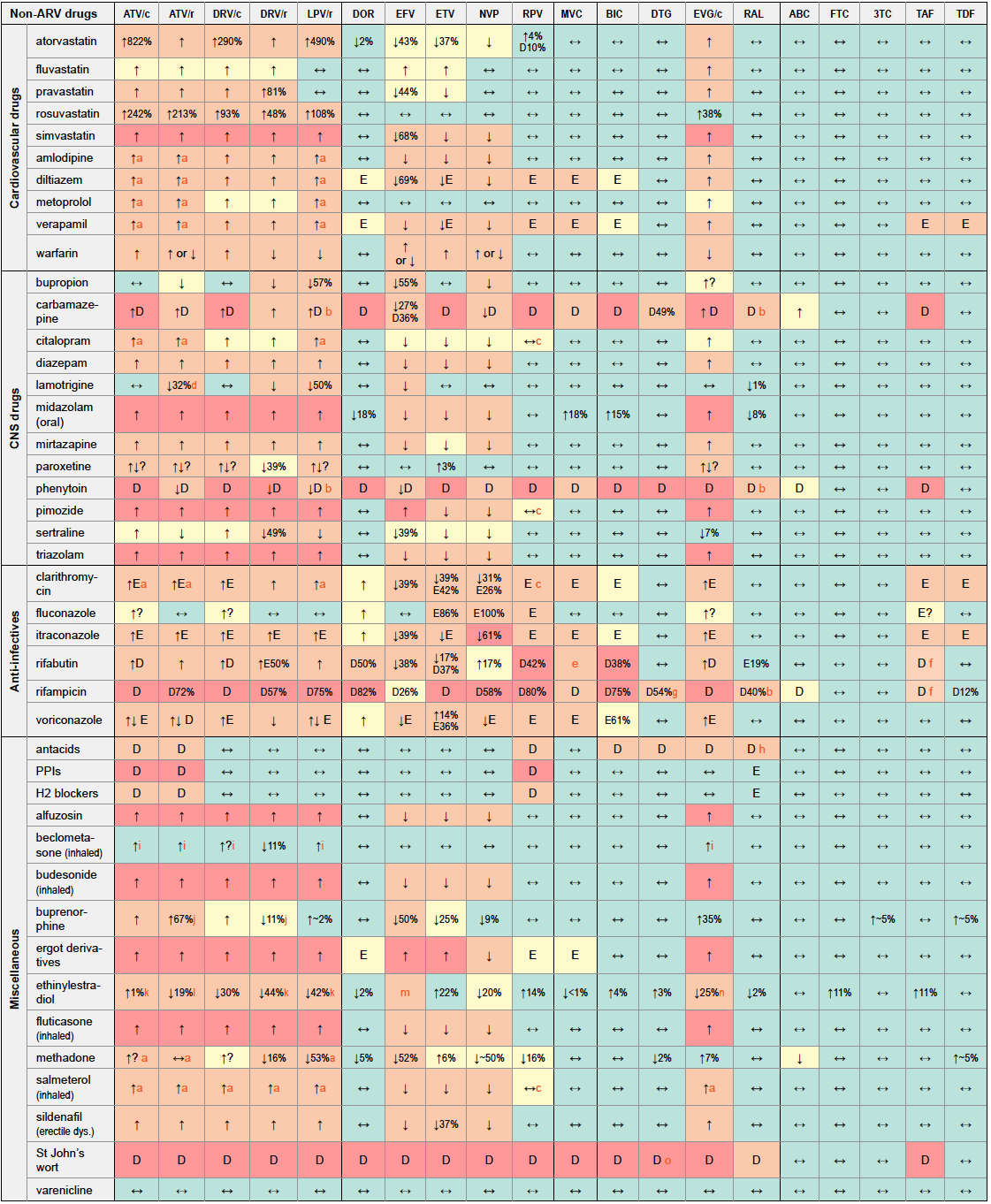 Legend
↑ Potential elevated exposure of non-ARV drug
↓ Potential decreased exposure of non-ARV drug
↔ No significant effect
D Potential decreased exposure of ARV
E Potential elevated exposure of ARV
ATV/c ATV co-formulated with COBI (300/150 mg qd)
DRV/c DRV co-formulated with COBI (800/150 mg qd)
Numbers refer to increased or decreased AUC as observed in drug-drug interaction studies.
* This tables summarizes drug-drug interactions between HIV therapy and some commonly prescribed co-medicines as well as drug-drug interactions of particular clinical relevance. This table is not exhaustive
For additional drug-drug interactions and for more detailed pharmacokinetic interaction data and dosage adjustments, see http://www.hiv-druginteractions.org (University of Liverpool).
Interactions with ZDV
Clarithromycin, rifampicin (decrease in ZDV exposure)
Fluconazole, methadone (increase in ZDV exposure)
Carbamazepine (increase in carbamazepine exposure)
Phenytoin (decrease in phenytoin exposure)
Comments
ECG monitoring is recommended

Co-administration with LPV/r 800/100 qd or RAL 1200 mg qd is not recommended. If use is unavoidable, give LPV/r 400/100 mg bid or RAL 400 mg bid, with monitoring of response

RPV manufacturer recommends caution when co-administering with another drug susceptible to prolong QT interval

No PK changes with unboosted ATV

No dose adjustment for MVC in absence of PI. With PI (except TPV/r, FPV/r), give MVC 150 mg bid

Interaction can be overcome by administering TAF 25 mg bid

Administer DTG 50 mg bid in treatment-naïve or INSTI-naïve PLWH. Alternative to rifampicin should be used where possible for INSTI-experienced PLWH with certain INSTI-associated resistance substitutions or clinically suspected INSTI resistance

Al, Mg containing antacids not recommended with RAL 400 mg bid or 1200 mg qd. If co-administration with an antacid is unavoidable, calcium carbonate antacids can be used but only with RAL 400 mg bid

Increase in concentration of active metabolite observed with RTV 100 mg bid alone but without significant effect on adrenal function. Caution is still warranted, use the lowest possible corticosteroid dose and monitor for corticosteroid side effects

Concentrations of norbuprenorphine increased

Alternative or additional contraceptive measures are recommended or, if used for hormone replacement therapy, monitor for signs of oestrogen deficiency

Increase in ethinylestradiol with unboosted ATV

No effect on ethinylestradiol as a combined oral contraceptive, but ethinylestradiol decreased when administered as a vaginal ring. Progestin decreased with both methods. Use with efavirenz is not recommended

European SmPC states a hormonal contraceptive should contain at least 30 μg ethinylestradiol

The European SmPC recommends DTG 50 mg bid in PLWH without INSTI resistance. The US Prescribing Information recommends that co-administration should be avoided as there are insufficient data to make dosing recommendations