Anti-hypertensives & ARVs
Drug-drug Interactions between Antihypertensives and ARVs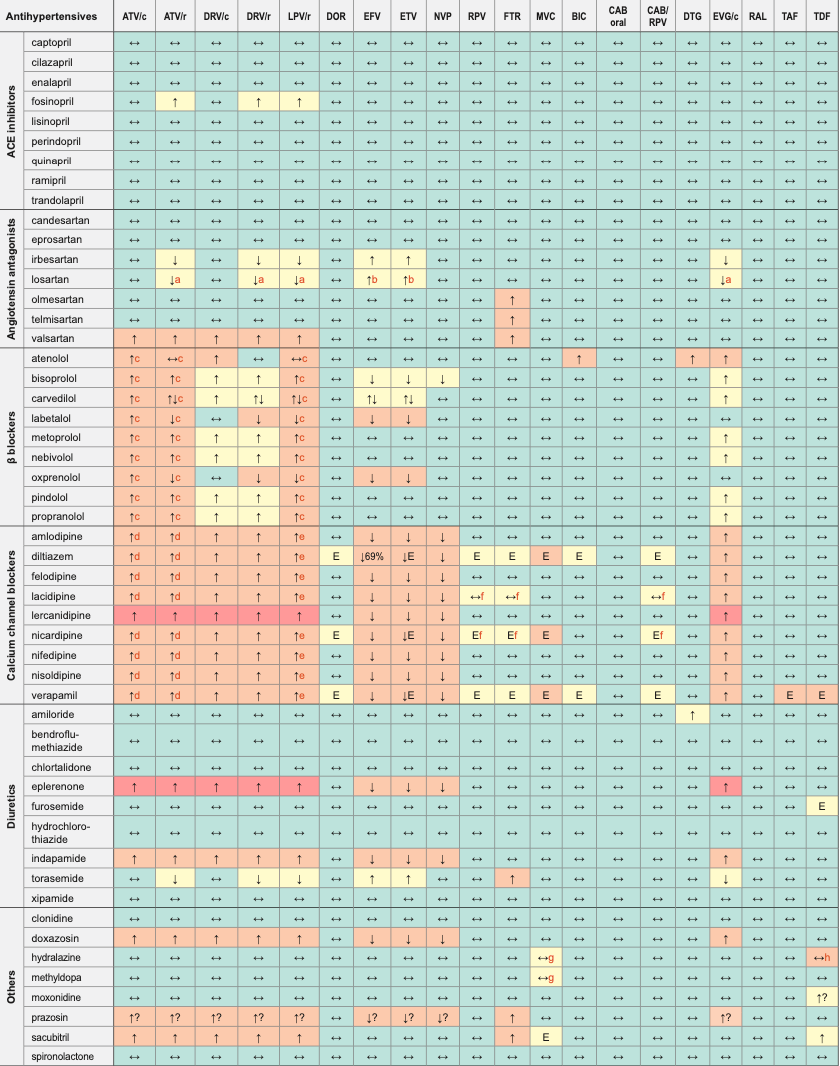 Legend
↑                  Potential elevated exposure of the antihypertensive
↓                  Potential decreased exposure of the antihypertensive
↔                No significant effect
D                  Potential decreased exposure of ARV drug
E                  Potential elevated exposure of ARV drug
ATV/c         ATV co-formulated with COBI (300/150 mg qd)
DRV/c         DRV co-formulated with COBI (800/150 mg qd)
CAB/RPV   CAB and RPV im long acting injections (PK and/or QT interactions shown are with RPV)
Numbers refer to increased or decreased AUC as observed in drug-drug interaction studies
Note: although some drug interactions are predicted to potentially require a dosage adjustment based on the drug's metabolic pathway, clinical experience with a particular antihypertensive and ARV drug may indicate that dosage adjustments are not an a priori requirement
Interactions with ABC, FTC, 3TC, ZDV
ABC, FTC, ZDV:   no clinically relevant interactions expected.
3TC:                      increased 3TC exposure with atenolol and amiloride.
3TC:                      increased exposure of atenolol and amiloride.
Interactions with ibalizumab
None
Comments
Parent drug concentrations decreased but active metabolite increased.
Parent drug concentrations increased but active metabolite decreased.
Risk of PR interval prolongation.
ECG monitoring recommended.
Use with caution as both LPV and calcium channel blockers prolong the PR interval. Clinical monitoring is recommended.
Caution as both drugs can induce QT interval prolongation.
Use with caution in persons with a history of postural hypotension or on concomitant medicinal products known to lower blood pressure, and those at increased risk of cardiovascular events.
Hydralazine has some nephrotoxic potential. If co-administration is unavoidable, monitor renal function closely.
Further Information
For additional drug-drug interactions and for more detailed pharmacokinetic interaction data and dosage adjustments, please refer to: http://www.hiv-druginteractions.org (University of Liverpool)