Pulmonary Anti-hypertensives & ARVs
Drug-drug interactions between Pulmonary Antihypertensives & ARVs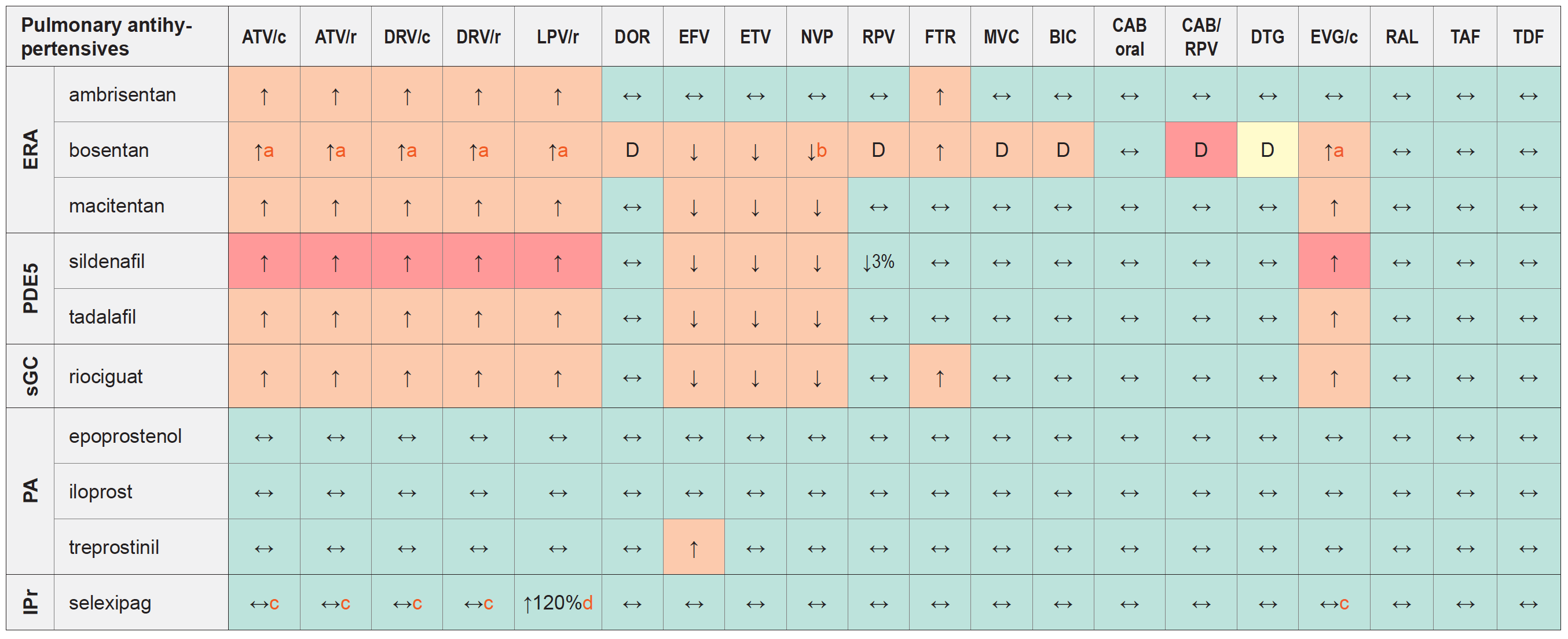 Legend

↑                  Potential elevated exposure of the pulmonary antihypertensive
↓                  Potential decreased exposure of the pulmonary antihypertensive
↔                No significant effect
D                  Potential decreased exposure of ARV drug
E                  Potential elevated exposure of ARV drug
ATV/c         ATV co-formulated with COBI (300/150 mg qd)
DRV/c         DRV co-formulated with COBI (800/150 mg qd)
CAB/RPV   CAB and RPV im long acting injections (PK and/or QT interactions shown are with RPV)
ERA             endothelin receptor antagonists
Ipr                IP receptor agonists
PA                prostacyclin analogues
PDE5           phosphodiesterase type 5 inhibitors
sGC             soluble guanylate cyclase stimulators
Interactions with ABC, FTC, 3TC, ZDV
ABC, FTC, 3TC, ZDV: No clinically relevant interactions expected.
Interactions with ibalizumab
None
Comments
Co-administration is not recommended in the European labels, but the US labels suggest the following dose modifications: When starting bosentan in persons already on PI/b or EVG/c use a bosentan dose of 62.5 mg qd or every other day. Discontinue bosentan at least 36 h prior to starting PI/b or EVG/c and restart after at least 10 days at 62.5 mg qd or every other day.
Potential additive liver toxicity.
Exposure of parent drug increased but exposure of active metabolite unchanged.
This change is unlikely to be clinically relevant.
Further Information
For additional drug-drug interactions and for more detailed pharmacokinetic interaction data and dosage adjustments, please refer to: http://www.hiv-druginteractions.org (University of Liverpool)